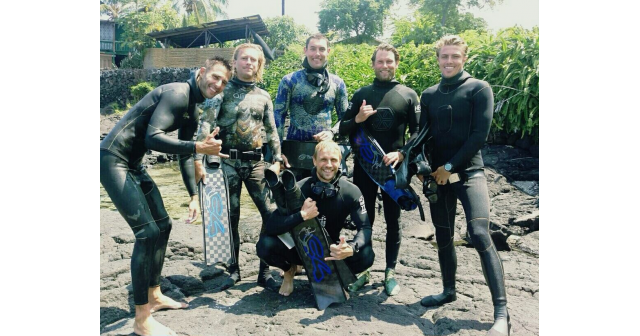 by FII - July 14th
Congratulations to our six new FII freediving instructors: Jonathon Harnish, Maui (absent from photo); Mark Paranto, Florida; Riley Elliot, New Zealand; Roy McDennon, New England; Cory Faults, Big Island and Kristian Nilson, Oahu.
This dedicated group of experienced watermen was trained and certified by FII founder and thirteen-time world record holding freediver Martin Stepanek in Kailua-Kona, Hawaii.
It's no secret that our extremely demanding instructor training pushes candidates to the edges of their physical and mental abilities in order to prepare them for the demands of elite-level freediving instruction. Despite the fact that all of our candidates hail from various advanced freediving-related backgrounds—from world-renowned shark scientists to competitive spearfishermen—they collectively agreed that it was a highly intense training experience.
We here at FII expect nothing less than perfection from our professionals, and this elite level of training ensures that the FII name remains synonymous with the highest level of freediving education available worldwide.
Back to Blog Page