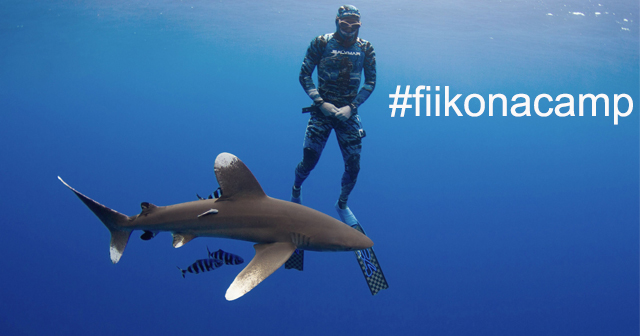 Napsal FII - November 15th
Set in beautiful Kailua-Kona, Hawai'i, the FII Kona Freediving Camp provides participants with a specialized, week-long freediving training camp with the FII staff.
From exciting bluewater freediving marine animal interaction trips, fun cultural evenings and unsurpassed daily training guidance from world-class instructors the FII Kona Freediving Camp is your ultimate freediving getaway. This camp has been running for nine years and is guaranteed to be an unforgettable week. For many it has become an annual ritual and we welcome back our repeat campers!
2017 FII Kona Camp Dates:
Saturday, September 23rd - Saturday, September 30th.

Register at www.martin.freedivinginstructors.com
Pre Requisites: Open to FII certified freedivers only. For non-certifed divers, a range of FII courses will be offered leading into the camp week. Please contact us for more information.
Participants will be limited to the maximum depth of their certification (i.e. Lvl 1 Freedivers are limited to 20m, Lvl 2 Freedivers 40 meters, etc). Please contact us if you have any questions.
Participants must be in good physical condition – See FII Medical Release.
Example Itinerary
Day 1: Arrive in Kailua-Kona Airport (KOA). 5:00pm Opening Meeting followed by a group dinner/social gathering.
Day 2: Daily scheduled freediving depth training sessions with FII's world-class instructor team. Our special dive site provides optimum training conditions for participants to work on their goals, at their own pace, with as little or as much training guidance as they request. Freediving training runs from 9am – 1pm. The evening will bring our entertaining FII Marine Animal Interaction Clinic.

Day 3: Daily scheduled freediving depth training sessions with FII's world-class instructor team from 9am – 1pm. Optional Marine Animal Interaction trips will begin taking out our freedivers off-shore to the deep blue in search of manta rays, sharks, pelagic fish, pilot whales, and anything else happening! Divers will be taught how to interact with these animals utilizing their freediving abilities. Boat trips run from 8am – mid-day.
Day 4 : AM - Daily scheduled freediving depth training sessions with FII's world-class instructor team from 9am – 1pm. Marine Animal Interaction trips continue from 8am-12pm. As evening falls "campers" will reunite to talk story over some kava and soul food.

Day 5: Barbeque Beach Day. Its time to Relax! Sea kayaking, reef freediving, spearfishing, boogie boarding or maybe you just want to bring along a hammock. Sunset Potluck Beach BBQ.

Day 6-7: Same as Day 3.
Day 8: Final day of depth training on the lines with our professional team then its on to our evening celebrations under the tiki torches.
Day 9: Departure day.
***
Marine Animal Interaction Trips
For the 10th year running FII will be joining forces with Wild Hawaii Ocean Adventure's (WHOA) on their ex-Navy Seal Assault vessel, the Ocean Warrior. Our goal: To seek out & freedive with some of the most beautiful creatures on this planet!
The FII team will introduce you to specialized freediving techniques that we've developed over years of interactions with these animals. You will learn how to enhance the interaction on an intimate animal- to-animal level.
Common local Hawaiian species include short-finned pilot whales, spinner dolphins, spotted dolphins, manta rays, silky sharks and oceanic white-tip sharks.
These trips are an optional add-on to your Camp experience and they do incur an additional boat fee. We highly recommend everyone to book at least one trip as it's an exciting day on the water and what the FII Kona Camp has become known for.
Reminder: You only have time to participate in one activity (either depth training or boat trip) per day as both activities run from morning – mid-day.
***
Locations
Meetings will be hosted at Kona Freedivers in Kailua-Kona.

Freediving Training will be hosted in South Kona.
Marine Animal Interaction Trips will be departing from Honokahau Harbour.
***
Diving Gear and Equipment
Ocean temperatures will be around 80F/26C. We require a minimum 3mm wetsuit.
Freediving Training: You will need to bring a 3mm freediving/spearfishing suit, mask, snorkel, freediving fins, rubber weight belt, small weights, and freediving computer.
Additional Items: A thin shell rain jacket, water bottle with carabineer clip, wide brim hat with neck tie and a mini flash drive (for your photos & videos).

***
Pricing
Included in the base price, $750.00pp
• Six days of freediving tuition from world-renowned freediving instructors including 13-time freediving world record holder, Martin Stepanek
• HD Videos of Personal Freedives
• Exclusive 1.5hr Marine Animal Interaction Clinic with Martin Stepanek & team.
·

FII Marine Animal Interaction Guide
· Organized Beach Day with the use of sea kayaks and other beach activities.
Not included:
• Flights, Accommodation & Car Rental
• Animal Interaction Boat Fee (approx $125.00 per trip)
• Food & Beverages at Social Events
Payments:
• A non-refundable deposit of $250.00 is required to secure your spot
• Final balance will be billed on June 1st 2017
· • Upon booking a position on the Marine Animal Interaction boat you will become fully responsible for this position and billed via PayPal for $125.00. We do not accept last minute boat cancellations and payments are non-refundable. Boat bookings are usually requested 1-2 months prior to the camp starting.

• All payments on 'Trips' are final
Car Rental
You will need to rent a car. If anyone is interested in sharing accommodation and car rental, please let us know and we will connect you all in a group email. www.orbitz.com offers the best rates on the island.
Due to the islands size and sheer untouched beauty, planning a few adventures in your downtime is a must do addition to your trip! You will have most afternoons off for these day trips.
Accommodation
We highly recommend exploring the wide range of beautiful vacation rentals available in the Kona district. Pricing varies.
Vacation Rentals:
www.vrbo.com (Hawaii/Big Island/Kona Coast)
www.Kona123.com (Local Vacation Rentals)
Hotels:
The Kona Islander Inn www.konaislanderinnhotel.com - Affordable accommodation right in downtown Kailua-Kona. Rates starting at approx $79- per night
The Manago Hotel www.managohotel.com - Historical, clean, affordable accommodation in beautiful Captain Cook. Rates starting $40- per night
You can also view other hotels of your taste and budget by going to 'Trip Adviser' and searching 'Kailua-Kona Hotels'.
***
A Camp Bulletin with a fully detailed day-to-day activity schedule will be sent out two months prior to your camp commencing. If you have any other questions prior, please do not hesitate to call us anytime on 808-212-0012.

We look forward to your joining us on this adventure of a lifetime.
info@freedivinginstructors.com / + 1 954 323 2222 (EST) / www.freedivinginstructors.com
Zpět na seznam příspěvků